Posted on June 24, 2021
Washing your clothing is an essential household chore. It is a daily task that we must complete as part of our daily routine. It's the one cleaning product that everyone uses, and there's never a shortage of new ones on the market.
Aspira Nigeria has various laundry detergents and other laundry essentials, including laundry soaps that are the best in Nigeria. They have several detergents based on the type of laundry, the amount of dirt in it, the tough stains, the scent on the clothes, or the cloth's fabric.
To make them the leading brands, all the top detergent manufacturers in Nigeria have their secret ingredients, concentrated formulas, and mixes. Many of these substances come from simple and pure plant-based ingredients. The detergent's cleaning power comes from the amount of each ingredient and how they are mixed.
Types of Laundry Detergents
Since its introduction, there are various types of detergents that people use. Reading the detergent label you buy is crucial because some of the compounds may be harmful to you.
1. DIY Laundry Detergents
DIY laundry detergent and liquid laundry detergent is easy to make, inexpensive, and works in many sorts of washers, including loads of laundry. DIY laundry detergents allow you to save money while also avoiding harsh chemicals. It is among the laundry essentials with a gentle formula with no severe environmental impact and family-friendly. It does not contain toxins or harsh chemicals, i.e., it is a completely hypoallergenic laundry detergent, which can cause skin irritation to your delicate skin, skin sensitivities, and a variety of other health issues.
2. Conventional Detergent
Chemicals, artificial fragrances, strong fragrances, synthetic fragrances, and brighteners, all often produced from petroleum, can be found in conventional detergents. The skin can absorb them through clothing and also enter the ecosystem through groundwater. However, conventional detergents are very harmful as they can cause various health problems and irritated skin conditions.
3. Powder Detergent
Laundry powder detergents contain beneficial chemicals such as sodium carbonate, calcium and magnesium, which dissolve in water and soften hard water. Both machine and hand washing benefit from detergent powders. It's also simple to use and cleans thoroughly.
The Viva Plus Detergent Powder is one of the best detergents available in Nigeria. It is good at eliminating adult stains, oily stains and grease from clothing. Its a natural formulat that is a perfect stain remover. The detergent granules' delicate and biodegradable formula is kind on your clothes and gentle on your hands. It works well on stains from the outdoors, such as soil, dirt, mud, or grass stains.
4. Liquid Detergent
The most popularly used detergents are liquid detergents. They entirely dissolve in water, doesn't matter what's the water temperature (hot water or cold water); leaving no trace on the clothes, ensuring laundry clean. Liquid laundry detergent is safe to use in the washing machines because they are free of complex substances that can build up and cause damage.
5. High-efficiency (HE) Detergents
High-efficiency (HE) laundry detergent is designed especially for high-efficiency washing machines, which use less water. HE detergent, with its rapid dispersion, provides an excellent clean in a small amount of water. Therefore, you should always use HE detergent if you have a high-efficiency washer.
6. Non-Toxic Detergent Pods
Water-soluble pouches containing highly concentrated laundry detergent, softener, and other laundry goods are laundry detergent pods. Detergent pods are single-pack, one-load-only quantities of a sealed laundry detergent packaged in a dissolvable bag for convenience.
What Are The Factors To Consider When Buying A Detergent?
Most people consider price and scent when buying laundry detergent, but not everyone reads the ingredient list. When it comes to a cleaning product with such close touch, the components are pretty important. Here's what to look for in a laundry detergent that's effective, strong, and safe to use every day.
◾ Enzymes and Surfactants
You can see only around 30% of the filth in your laundry with the naked eye. While things like food, filth, and dirt stains are visible, a frightening 70% of the particulate is unseen. These unseen materials can accumulate over time, causing smells, dinginess, and dullness in fabrics. Choose a product, such as the Aspira Laundry soaps that contain various surfactants and enzymes for a higher-quality, deeper clean.
◾ People With Sensitive Skin
People with sensitive skin should take special care of their clothes and other objects they regularly contact. If you have eczema, sensitive skin, or reactive skin in general, seek a laundry detergent devoid of dyes, sulfates, and artificial scent. Viva Plus Multipurpose Soap is one such product that cleans clothes and is also suitable for the skin.
◾ Plant-Based
Choose a detergent having Simple and pure plant-based ingredients if you're looking for a formula that will keep your materials fresh while also being friendly to your skin and the environment. Furthermore, such detergents use less product, which is healthier for your clothes, budget, and the environment. For example, you can use Fizz Multipurpose Soap which comes from natural ingredients like palm oil.
◾ Washing Machines with a High-Efficiency
Your detergent should not only clean your clothes, but it should also be safe for your washing machine. If you have a HE machine, check the label to see if your formula is HE safe and any specific requirements. After all, you should not buy a detergent that requires a hot water cycle if your washing machine doesn't have the feature.
Best Laundry Detergents In Nigeria
Aspira Nigeria has some of the top laundry essentials for all your needs. Let us take a look at some of their best products.
Viva Plus Detergent Powder
The powdered detergent powder cleans, maintains the color of your clothes, and provides protection from germs.
Powdered detergent is eco-friendly and has a multi-enzyme technology to clean clothes effectively.
Powdered detergent also has a floral fresh scent that leaves your clothes smelling pure and refreshing for a long time.
Viva Plus Laundry Sanitizer Detergent Powder
The improved power formula in Viva Plus Laundry Sanitizer Detergent Powder eliminates difficult stains and leaves a long-lasting fresh scent smell on your garments. It can keep your garments looking bright and vibrant wash after wash. In addition, it can remove 99.9% of bacteria and eliminating even the most challenging everyday odors.
Viva Multipurpose Soap
It is a Multipurpose Bar Soap with the highest quality soap components that clean clothes thoroughly. It contains Sodium Palmitate, natural oil that is suitable for both bathing and laundry. In addition, Viva Plus Multipurpose Soap contains Vitamin E, which is best for keeping skin supple and silky. It makes washing easier and leaves your clothing clean with a pleasant aroma.
Fizz Multipurpose Soap
Fizz is a bar soap that provides germ protection for up to 24 hours. It has all-natural ingredients, including palm oil and clean soap. Fizz Multipurpose Soap provides germ protection for up to 24 hours. You can use it for bathing as well as laundry.
MP3 Multipurpose Soap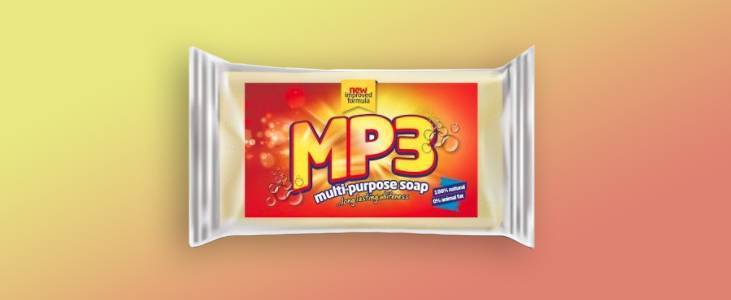 MP3 Multipurpose Soap is a soap that you can use for both bathing and washing clothes. It's gentle, fragrant, and refreshing, and it's suitable for all skin types. Its ability to wash makes it ideal for keeping whiteness for a long time. It's produced entirely of natural soap-based materials, having a fresh scent, and contains no animal fat.
Aspira Laundry Soaps
Aspira Laundry Soaps come with natural soap-based components and are suitable for all types of skin. It comes in various sizes and shapes, including Manuka, MP3 Gold, and Viva Brown. They're all made to provide you the most excellent possible washing experience.
Conclusion
We use several different types of detergent in our homes. However, before making your choice, think about the type of machine you have and the type of laundry you need to clean. Because there are so many differences between laundry detergents and washing powders, you must choose the right one for your machine. Aspira Nigeria has the best range of personal care and hygiene products that you can use for all purposes. You can choose from their range of laundry essentials to get the best washing experience.
FAQ Question & Answers:
1) Why Does My Laundry Smell Bad?
Your washer might sometimes be the source of unpleasant scents. Detergent and fabric softeners can accumulate, clog filters, and contain bacteria. As a result, your clothing is exposed to microorganisms in the hot or cold water as you wash them again and again. You can do is:
Pour two cups of vinegar into your detergent drawer to solve the problem.
Next, empty your washer and run it on the most prolonged hot water cycle setting.
When it's finished, wipe down the drum with a sponge. Repeat the hot water cycle to remove any remaining vinegar residue.
2) Why Do I Need Baby Laundry Detergent?
Many parents believe that they do not need to clean their child's clothes using baby detergent. It is not true because the skin of a baby is sensitive. It's possible that washing your baby's clothes with the rest of the family's garments will irritate his or her skin. You can prevent allergies, eczema/atopic dermatitis, and other skin conditions with baby detergents.
3) Why is a Laundry Sanitizer so Important?
In washing machines, laundry sanitizers can kill microorganisms on garments. To protect themselves, households with gastrointestinal disorders, weakened immune systems, and work gear polluted with infections from humans, animals, or agriculture should use them. Again, due to the Covid-19 outbreak, it is critical to sterilize garments frequently, as laundry sanitizers can eliminate the majority of viruses present in your garments.
Also read: https://aspiranigeria.com/best-moisturizing-soaps-in-nigeria